Central Australian Aboriginal Media Association (Aboriginal Corporation)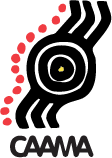 The Central Australian Aboriginal Media Association (CAAMA) came to life in 1982 with the establishment of radio station 8KIN FM. Aboriginal-owned media was seen as being vital to the broad educational and community development aspirations of Aboriginal people in Central Australia. Radio was a way to give voice to Aboriginal hopes and dreams as well as being a tool to maintain and sustain the culture and languages of Central Australia. Originally offering music and programming in Arrernte, Pitjantjatjara, Luritja and Warlpiri, today CAAMA broadcasts in half a dozen more Indigenous languages, reaching communities across Australia.
CAAMA plays a major role in the maintenance of Indigenous Language and Culture in Central Australia. CAAMA's social charter is to use the mediums of radio and television to give Aboriginal people a strong voice in the development of country, culture, politics and education; to use the broadcasting arts and sciences to arrest cultural disintegration, to empower people and bring inspiration to their lives.
CAAMA is governed by an elected Indigenous Board reporting to Indigenous members, while operations are managed by our CEO.
Timezone:
Australian Central Standard Time (ACST)
Salary and conditions:
$110–120,000 depending on experience and qualifications
plus superannuation and generous PBI salary sacrificing benefits
Job description/overview:
Key responsibilities
Develop financial and investment strategies that support the implementation of strategic business planning.
Develop and implement strategies that support capital requests for new and replacement plant, fixtures and equipment.
Manage all accounting, taxation, debt, credit, and treasury functions.
Through the development of risk-assessed cash forecasts and oversight of cash balances be responsible for the maintenance of cash reserves that, at a minimum, meet operating obligations.
Oversee the implementation and best practice of all financial transaction processing systems as aligns with CAAMA business practices.
Ensure the provision of timely management and statutory reports in line with Australian Accounting Standards including managing annual audit functions.
Develop analytical financial performance measurement systems to maximise return on investment and match expenditure to social charter and grant funding obligations.
Represent CAAMA effectively as relevant to the portfolio of responsibilities.
Apply cultural understanding and awareness in the workplace.
Develop and maintain positive relations and participate with the CAAMA Management Team as the primary provider of financial advice.
Selection criteria
Essential
Relevant tertiary qualifications, preferably at a post-graduate level, and credentialed as a CPA.
At 5 years' experience in financial management and a history of achievement in translating financial management practice to support the growth and success of the organisation.
Demonstrated experience in both financial and management accounting practices.
Demonstrated experience in strategic planning and budget modelling.
Demonstrated experience in managing relationships with external financial partners and stakeholders.
Demonstrated analytical and conceptual skills and the ability to communicate complex ideas to a broad range of professional, educational, and cultural backgrounds.
Demonstrated superior negotiation skills and ability to communicate with influence to a broad cross section of external stakeholders.
Highly desirable
Identifies and is accepted as a person of Aboriginal and/or Torres Strait Islander heritage.
Proven working knowledge of the media industry with a specific focus on Indigenous media.
People of Aboriginal or Torres Strait Islander descent are strongly encouraged to apply.
Contact person and how to apply: