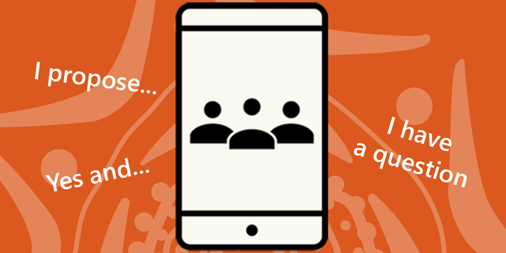 Just like 'real' meetings, the quality of online meetings varies. They can be worse than the worst face-to-face meeting—audio-only with people talking over each other, so you don't even know what's going on. Or they can be very formal—a broadcast online video call with moderated Q&A where only the most confident people contribute.
It's up to you to deploy tools and develop protocols that work for your members and directors. If you choose the right tools, and frame and manage the meeting well, virtual meetings may be highly productive and enjoyable for your corporation.
This page is an overview and includes examples and some strategic suggestions. Most corporations can probably find one or more tools to make meeting virtually at least as effective as in person and more participatory, since there are multiple ways for people to contribute—via voice, text or other interactions. The material here is pitched toward general meetings but may also be useful for board meetings. See also the companion page on online AGMs.
Good luck! And if there are great tools (or advice on successful online meetings) you want to share with other corporations, please let us know.
Planning the meeting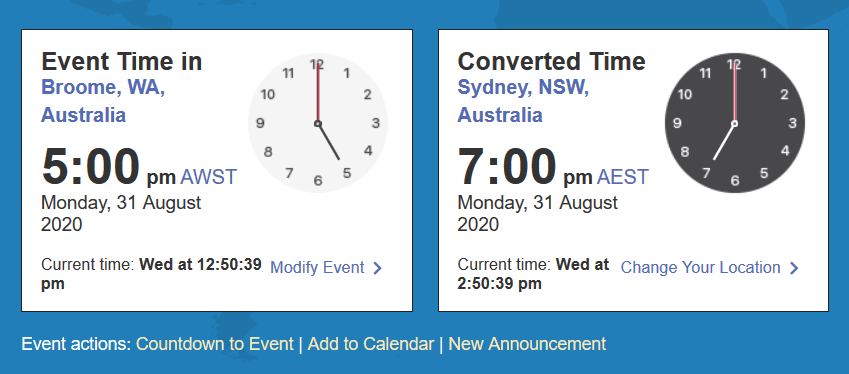 As with face-to-face meetings, you need to give three weeks' notice for a general (members') meeting, and to share the agenda and the wording of any special resolutions.
If your meeting includes people in different time zones, you need to be very clear about when it is. Event Time Announcer creates a stable source for the time of your meeting, and includes an 'Add to Calendar' link so people can add the event to their own calendar in their local timezone. The image on the right is an example.
Importantly, your meeting notice should include details on how to join the meeting, and how to access any additional material members will need.
Choosing a platform to meet online
Choosing a platform for video conferencing is a crucial part of preparing your corporation for online meetings. Which tool will suit you best depends on what you need. Here are some features that might be important to your corporation:
compatibility—are you required to use a particular system, or is your choice narrowed due to a prior investment in an operating system or hardware?
reliable and reputable—technology moves fast; make sure you choose a service that you believe will still exist in one or two or five years
audio-only option—for people with limited bandwidth—but note that psychology research suggests that 55% of communication is body language and andother 38% is tone of voice
optimal engineering for minimal use of available bandwidth—eg advertising-free; code optimised for minimal lag times (probably means avoid Microsoft if you can)
participant limit—how many people (ie devices) does the tool allow in to one meeting?
screen-sharing—can any one person present to all the other participants?
hand-raising—it can be very helpful, even in smaller meetings, to enable people to indicate in advance that they want to speak; alternatively (or in addition) you could also use this function to enable your members to vote on resolutions
breakout groups—for large meetings where you have a lot of ground to cover and need to split the work, you might want to break the group down into a number of smaller groups
recording—can you record the meeting? If so are the recordings downloadable?
customer support—will there be someone to call if things go wrong?
interface—can you live with whatever stock images and icons come with the platform? Or can you customise it to better suit your corporation?
guest access—can people join without having to set up an account with the platform?
Open source or proprietary, self-hosted or serviced?
Open source software is different to proprietary software in that the underlying code is freely accessible to anyone that wants to use it or adapt it. Often the licence to use it comes with the condition that any adaptations are shared back to the community of developers. It's a collaborative approach to software development and can be very successful if a large community coheres around the project.
Sometimes open-source means you need to install the software, configure it on your own servers, and then upgrade it periodically to keep up with the latest developments. In those cases you need a bit of technical know-how. Some people swear by self-hosting for maximum control over settings for functionality, security and privacy.
Some open source software for video conferencing also has a public web presence, so all you need to do is sign up and invite people. Then there are businesses that build on open source solutions. They won't charge for access to the software itself but they might charge for support or value-adds such as plugins (additional functionality) or theming.
Proprietary software is owned by a company that makes money when people buy a license to use the software. If you're paying for a premium service, you should expect a dead simple interface, and a high standard of support if there are any issues. Maintenance and upgrades of the software will also be done in the background.
On the down-side, you don't usually get the underlying source code, so you (or your tech people) can't tell how good the security is, and customisation is either not possible or costly.
Sometimes there's a free version to inspire you to give it a try. If you're using the free version, you may need to compromise on functionality—for example, there may be a limit on the number of people that can meet simultaneously, or you may not be able to download the recordings you make of your meeting. There may also be continual invitations to upgrade for the full-featured experience.
Sometimes the whole service is free because the company is making money in another way, for example by charging advertisers for your attention as a user.
We suggest: browse around the websites. Notice how quickly the webpages load. Does the interface appeal to you? Can you get a clear sense of the functionality that will be available to you? What investment would your corporation need to make in order to use the tool (money and/or effort to get all your members onboard). When it comes to making decisions about technology, first impressions are often a good indication of what's to come.
Open-source tools for video conferencing
Proprietary tools for video conferencing
The most popular tool both globally (300 million users) and among corporations registered through ORIC seems to be Zoom, despite serious security flaws that the company is endeavouring to fix. Other contenders include:
Text chat
Most video chat tools also have a feature for text chat. Having a chat feature alongside the video call can help your corporation to manage the multiple threads your conversation might take. It might also be useful, for example, to point latecomers to the shared document. On the other hand you might find it distracting, over-complicated or confusing, to use a chat feature alongside the video call and the shared document.
Note that the more people you have in the meeting, the more important it is that the chat feature allows for conversations to be threaded—ie you can reply to a particular message, and your reply will appear with the message that prompted it, as opposed to everything just appearing in the order it was posted. (Also note that some of the tools listed in the below section on real-time collaborative note-taking also have their own chat feature, so if there is more than one available to your members, you should make sure everyone knows which one to use for what.)
File sharing
You will need to make a set of documentation available to all participants in your meeting, in advance of the meeting, during the meeting, and afterward. For example, your membership will need access to:
the meeting notice
agenda
any reports or other papers related to key agenda items—such as a financial report, a directors' report, strategic and/or business plans, reports on any special projects
the register of members—so that members can check and update their contact information  
Your corporation might already have a web-accessible document library. For example, some websites have a 'members-only' section where members can log in to access corporation documents. If not, there are many online solutions for file-sharing, and they're all free unless or until you exceed the storage limit:
Any of those services would work. It's a good idea to group all the documents for one meeting into one folder and share the link at the folder level. If you anticipate multiple meetings of the same group, you might create a higher-level 'meetings' folder and share that instead.
Collaborative note-taking
Another aspect you'll want to consider is whether you need a shared document for real-time collaborative note-taking. It might be a great way to enable members to confirm their contact details are up-to-date. It can also help to ensure members give full consideration to any proposals that require their support. A shared document is a good way to encourage and focus participation. It can:
ensure everyone knows the agenda
register attendance
facilitate participant introductions
enable cooperative note-taking in real time
enable members to ask questions without disrupting the flow of the meeting.
enable non-verbal updates from the host.
A shared document also allows people who couldn't make it in time for the meeting to access links, information and resources—or to see details about the meeting that you wouldn't get through the formal minutes.
Again there are many tools, with different emphases—some are for free-hand diagramming, others for plain text. For a general meeting you will probably prefer a tool that allows anonymous editing (so your members won't need to create an account or sign in). You also need a tool that has minimal latency (lag in making changes visible to all users). Some options:
Google offers various tools for real-time multi-user editing—for text, drawing and whiteboarding. Google is good at minimising latency but its investment in tools waxes and wanes.
Miro is a nice tool with an infinite canvas to write, flowchart, draw, add sticky notes and comment. The site claims it will be 'free forever', and no credit card is required.
Text-only options include MeetingWords and the open-source tool EtherPad (which many NGOs make available on the web for anonymous use, eg try pad.riseup.net)—in both tools, each person has their own colour; there's a chat alongside; and if something goes wrong you can restore a previous version
Testing the tools
Some things can't be overstated: it's important to test your setup—well in advance of your scheduled meeting—so you can practise:
framing the meeting to maximise respect and value
using the tools and
resolving any issues that arise.
If you are using audio-only, make sure your microphone is well positioned. If you are using video, make sure the camera has an appropriate field of view.
Hosting the meeting
Welcome each new arrival
Even if it feels repetitive, it's important to welcome people to the call as they arrive—especially for members or directors who are new to the corporation or board. Think of it like standing at the front door as dinner party guests arrive. You should be warm and welcoming as you invite people into the meeting, also accepting and expecting late arrivals. Anticipate starting three to five minutes later than the scheduled time and let people know this as they trickle in.
As you welcome people, guide them toward the shared document so they can register their attendance, confirm their contact details are up-to-date, see the agenda and think about any resolutions proposed.
Set the tone for respectful interaction
It's imperative that the chair of the virtual meeting—the host—commits to making the meeting culturally-safe and ensuring that everyone who wants a say gets one. Know that unless we approach a meeting with the clear intention to include everyone and to respect all views, it's likely that some people will dominate and others will disengage. It's up to the chair to set the tone for respectful interactions and to involve everyone equally.
Depending on how many people are in the meeting, you should introduce everyone in the room with you, and elsewhere. Make sure people feel included. Take extra time to do this; it's important.
To ensure you're not disrupted by background noises, ask far-end participants to mute their microphones. (Some video tools empower the host to mute other participants' microphones.)
Chair or host of the meeting should provide an overview of the agenda and explain how the interactions (speaking, voting) will occur. They will also need to do more than usual to check that everyone who wants to contribute has the opportunity.
Cultivating collaboration
One of the first things to do is normalise simultaneous participation. Prompting people to check their details in the membership register will have this effect. It will also allow the host to check that everyone can access the document, and help those who may be having trouble. Once everyone has made a simple, easy contribution, they will be primed for other kinds of participation.
At the beginning of the meeting, ask for one or two volunteers to take notes in the shared document. Remind them it will be useful for other participants to remind them of the issues covered, and for anyone else who may have missed the meeting. It will become the minutes!
Throughout the meeting, be sure to invite contribution from participants. Just as you would in person, after you've introduced a new concept, check that everyone has understood, and answer any questions about it. (Make sure people know how to express a question. Do you prefer them to indicate they have a question and then wait to ask it with their voice, or to note it in the shared document?)
At the end of the shared document, invite feedback, non-verbal updates and contributions from participants. Anything goes in this space, and it can be a great way to invite those less vocal to share.
Voting
If you're happy to run an open poll—that is, to know who voted which way—you could use your shared document to register members' votes for any resolutions put to the meeting.
But you probably want your votes to be anonymous—it can be critical to ensuring that everyone feels safe to express their true opinion. There are many tools for anonymous polling. Here are a few that might be a good fit for your corporation:
Poll Everywhere—they're big, and they're strong advocates for the importance of anonymity in creating a safe space for people to be vulnerable. You can embed their polls into a presentation, so people just need to text their response to a number. But the system may be overkill for your needs.
Polys—blockchain-based secure anonymous online voting presented in a nice, simple interface. After you write the question and the options for answers, you select how long the vote is open for. There are three ways you can manage the vote:

upload a set of members' email addresses
generate a set of codes to share with your members
make it a public vote to anyone who has the link (with in-built protection against double-voting). The free service allows for up to 100 votes.
After the meeting
After the meeting, you'll need to finalise the minutes and share them with all the members. Hopefully, your shared document will make it easy to identify any key discussion points—or any notes about issues that members or directors want to see added to the minutes. Agree on how to make the minutes available to members. Will they be published online for people to access themselves? Will you email everyone to let them know? Or will you print and post a copy to those that want it?
Further information