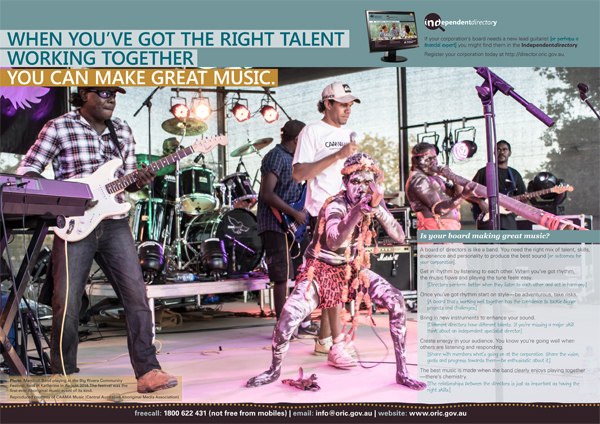 Photo: Mambali Band playing at the Big Rivers Community Festival, held in Katherine in August 2015. The festival was hosted and funded by CAAMA Music and was the first ever Aboriginal music event of its kind.
Reproduced courtesy of CAAMA Music (Central Australian Aboriginal Media Association)
WHEN YOU'VE GOT THE RIGHT TALENT WORKING TOGETHER
YOU CAN MAKE GREAT MUSIC.
If your corporation's board needs a new lead guitarist [or perhaps a financial expert] you might find them in the Independentdirectory.
Register your corporation today at http://director.oric.gov.au.
Is your board making great music?
A board of directors is like a band. You need the right mix of talent, skills, experience and personality to produce the best sound [or outcomes for your corporation].
Get in rhythm by listening to each other. When you've got rhythm, the music flows and playing the tune feels easy.
[Directors perform better when they listen to each other and act in harmony.]
Once you've got rhythm start on style—be adventurous, take risks.
[A board that's working well together has the confidence to tackle bigger projects and challenges.]
Bring in new instruments to enhance your sound.
[Different directors have different talents. If you're missing a major skill think about an independent specialist director.]
Create energy in your audience. You know you're going well when others are listening and responding.
[Share with members what's going on at the corporation. Share the vision, goals and progress towards them—be enthusiastic about it.]
The best music is made when the band clearly enjoys playing together—there's chemistry.
[The relationships between the directors is just as important as having the right skills.]
freecall: 1800 622 431 (not free from mobiles) | email: info@oric.gov.au | website: www.oric.gov.au
---
See the full newsletter ORIC Oracle, February 2016: INDEPENDENT DIRECTORS: can add a skill set